End of season award winners & final opportunity to pick up
Thank you to everyone who attended our Presentation Day on Saturday afternoon.
Below you will see the major award winners in each age group as well as across the club.
We understand not everyone could come to our re-scheduled event.
We have organised a final opportunity to collect your end of season medal, age trophy, club record plaque, 5 year award or Seniors medal.
This will be on Saturday 12th May, 9-11am, 52 Piper St Lilyfield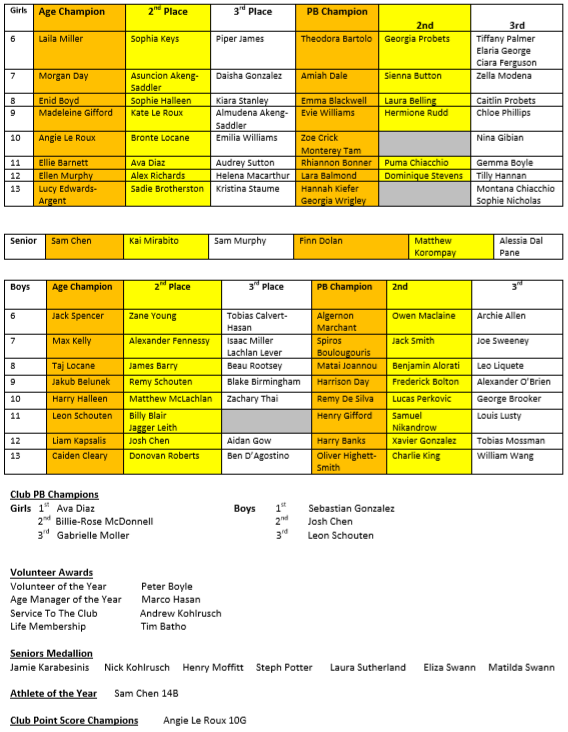 ---
New Records 2017/18 Season - UPDATED
After eighteen weeks of competition an amazing 63 new records have been set on KGO
U6 Laila Miller 50m 100m 200m
Sophia Keys 70m
U7 Ascunsion Akeng-Saddler 500m PS
Max Kelly 50m
U9 Hewston Fitzgerald 60m Hurdles
Blake Birmingham High Jump
Irini Kapsalis Shot Put
U10 Zachary Thai 1100m Racewalk
Angie LeRoux 400m 800m 1500m
Bronte Locane 60m hurdles
Tallulah Prentice Discus
Harry Halleen 400m 800m
U11 Josh O'Connell 800m 1500m
Billy Blair 60m Hurdles
Leon Schouten 200m 400m
Tynise Bowrey 1500m
Jayda Stanley Racewalk
U12 Ellen Murphy 100m 200m
Meghan Boyle Javelin
Liam Kapsalis 100m 200m
Luca Gillard 1500m
Harry Banks 1500m Racewalk
Alexandra Richards 60m Hurdles
Aidan Gow 60m Hurdles
U13 Ada Rand 800m 1500m 3000m
U14 Sam Chen 100m 200m 90m Hurdles 200m Hurdles
Kane Shields 800m
Jackson Mitchell-Lane Triple Jump
Mischa Belunek Triple Jump
Amelia Board 3000m
Chloe Lombardi Javelin
U15 Sam Murphy 1500m Racewalk
ThomasVirgona 400m
Oscar Killick-Dodd 200m
Hunter Hannaford Javelin
U17 Steph Potter 100m 200m 400m 300m Hurdles
Elise Brennan Racewalk
Olivia Hayes Javelin
Angus Beer 400m 800m 1500m
Kai Mirabito 100m 200m 100m Hurdles 300m Hurldes
Nick Kohlrusch Discus
Henry Moffitt Triple Jump
---